Sports betting laws in the United States are changing rapidly. While wagering on sports has long been an American tradition, many folks have been under the impression that the activity is largely against the law. Well, that used to be true; however, on May 14, 2018, the US Supreme Court overturned the Professional and Amateur Sports Protection Act (PASPA, 1992), lifting the ban on states being able to establish their own sports wagering industries. No longer does Nevada (primarily Las Vegas) have a monopoly on legal sports betting in the country and states are finally free to set up their own betting rules and regulations. Many already have.
Despite these positive developments, there are still federal laws on the book regarding sports wagering. The Interstate Wire Act of 1961 and the Unlawful Internet Gambling Enforcement Act (UIGEA) of 2006 both remain in effect. Both are limited in their application to gambling operators physically located within the United States, so bettors are still able to freely gamble despite those laws. As sports betting continues to become a more widely accepted in American culture, these laws will undoubtedly evolve, and they will likely eventually be repealed. Although no American laws prevent you from gambling, it would still benefit you to learn about them. Information is power, after all.
PASPA – The Professional and Amateur Sports Protection Act
PASPA, the Professional and Amateur Sports Protection Act, was passed in 1992 and went into effect on January 1, 1993. This law, since its inception to its ultimate SCOTUS overturn, has long been the sole real hurdle for eager American sports bettors. In practice, PASPA essentially allowed Nevada to have a total monopoly on single-game sports betting (aka full-service sports betting or "Vegas-style" sports betting). Given the overwhelming popularity of sports betting in the US, PASPA was a financial catastrophe. Not only did the law basically bankrupt major casino districts like those in Atlantic City, NJ, and Biloxi, MS, PASPA actually cost the government (both state and federal) an estimated $400-500 billion a year in taxable expenditure. It is not a stretch to suggest that during the law's existence (1992-2018), PASPA has cost the state hundreds of billions of dollars (if not trillions of dollars) in potential tax revenue. Of all the sports betting laws in the United States throughout its history, PASPA was by far the biggest, most obvious mistake.
Legal online betting is quickly becoming a reality in the United States. Most US states have had legal online horse racing betting for several years now, but more recently we are starting to see individual states legalize additional forms of online betting such as casino games, poker, daily fantasy sports and lotteries. For decades the Silver State was the only state with legal sports betting until the federal ban on sports betting was lifted by the Supreme Court. In 2019, the sports betting handle in Nevada was $6 billion. However, Nevada's position as the largest betting state is under threat with the NJ sports betting handle reaching $4 billion. Following the repeal of PASPA, many states have begun legalizing domestic sports betting. Now there are 19 states (and Washington D.C.) that offer sports betting to residents and tourists alike. In these states, you can find land-based operations in which you can go.
During PASPA's reign, Nevada – the only legal bastion for real sports wagering – was estimated to receive only 1-3% of the total sports betting handle turned by US bettors. The rest of that action was either going underground or being sent to offshore sportsbooks (which, despite PASPA and other US anti-gambling laws, were and are able to operate legally, as they are based overseas and outside of US jurisdiction). Naturally, PASPA has been something of a massive financial boondoggle for the US, and now that the law is overturned, there is hope that much of that action being sent overseas can be recovered and kept in the US economy. As for the lingering effects of PASPA? Good riddance to bad rubbish!
Read Our Article: What Is Papsa?
UIGEA – Unlawful Internet Gambling Enforcement Act
The Unlawful Internet Gambling Enforcement Act of 2006 (UIGEA) was written to deter US financial institutions from processing payments related to Internet gambling. Included in the SAFE Port Act 2006, the UIGEA is a provision that requires banks and other payment processors to monitor designated payment systems such as cards, checks, and bank wires for "restricted transactions", While the UIGEA will make it more difficult when using your Visa or MasterCard to make a deposit at an online sportsbook, there are certain sites that have higher success rates than others. Like most federal sports betting laws, the UIGEA only applies to businesses and not the individuals placing bets.
While the UIGEA sounds scary and intimidating, it doesn't actually do much to stop "unlawful Internet gambling". That's probably because most of the gambling it actually addresses isn't unlawful in the first place, given that offshore sportsbooks accessible over the Internet do not constitute illegal bookmakers. The law is further neutered by the advent of Bitcoin and other cryptocurrencies, which allow bettors to fund their accounts and receive payouts without ever going through a banking service on either end. All in all, the UIGEA is the poster child for ineffective legislation to address nonexistent problems. Hopefully, the law will be eradicated in due time, but until then, if you ever have a card declined while trying to fund your sports betting account, simply wait a bit and try again, use a different card (like an Internet Visa prepaid/gift card), or just use Bitcoin or another supported altcoin. Indeed, there is some debate about the origin of Bitcoin itself, with many analysts claiming that the catalysts for its creation were the strict sports betting laws in the United States.
Read Our Article: What Is The UIGEA
RAWA – The Restoration of America's Wire Act
The Restoration of America's Wire Act, or RAWA, was designed to strengthen and broaden the Wire Act after the DOJ ruled in 2011 that the law only applied to sports betting. While this received some notable support in the legislature after its initial proposal in 2014 (co-sponsored by Republican Senator Lindsey Graham and Utah representative Jason Chaffetz), the bill gained no support and never advanced.
The necessity for RAWA, in effect, at least temporarily obviated when the DOJ, in 2018, reversed course, stating that the original Wire Act did indeed apply to all common forms of gambling. This, it seems, has deprioritized the issue, albeit a DOJ statement is not nearly as binding as an official law (and, as shown, can be reversed at any time). Lobbyist and casino magnate Sheldon Adelson was the main driving force behind RAWA, as online gambling threatens his land-based casino interests.
The Interstate Wire Act
The Interstate Wire Act (also called the Federal Wire Act, the Interstate Anti-Crime Act, or simply the Wire Act) was a piece of legislation signed into law in 1961 by former president John F. Kennedy at the behest of his brother Robert F., who was the US Attorney General at the time. Sold to the public as a means to stop the proliferation of mafia-related numbers rackets across state borders, the real impetus for the very first of the US sports betting laws was to stop sports gambling and underground lotteries from competing with state-sanctioned lotteries. Naturally, the states could not abide competition in this arena, as their own lotteries provided huge amounts of income to fund their programs and schemes.
The way that the Wire Act seeks to curb unlawful interstate gaming is to make it illegal to use wire communications (hence the law's name) to accept sports wagers or other kinds of bets over things like telephones and telegraph systems. Indeed, semaphore is even outlawed! Naturally, with the advent of the Internet, this new communications form, traveling over wires, was also covered by the Wire Act, as is wireless wagering in our modern times. In 2011, the US DOJ stated that the Wire Act applied only to sports wagering. However, in 2018, the same US DOJ stated that the Wire Act does in fact apply to other forms of gambling, as well.
The only real effect of the Wire Act now, however, is that it prevents residents in one state from picking up the phone or logging onto the Internet to place a sports bet in another state. This is called geo-fencing, and even the casino and sports betting apps in Nevada are bound by GPS to only allow those physically in the state to place wagers. This problem, of course, doesn't exist with legal offshore sportsbooks, as they operate entirely outside of the reach of US laws, and the Wire Act conveniently applies only to bookies, not individual bettors. That's why these overseas books exist and continue to thrive.
Read Our Article: What Is The Wire Act?
Proposed Federal Gambling Laws
There is one particular sports betting law that is in the works, although it has not been officially filed as of yet. Back in September of 2019, US Senators Chuck Schumer and Mitt Romney began working on a form of legislation with the goal to create federal standards or guidelines for states who plan to regulate sports betting in the future. Currently, in the US, sports betting is handled on a state by state basis, making the rules vary drastically from one state to another. The proposed bill would make a unified sports betting set of rules that any state who regulates sports betting would then follow. Schumer initially tried to create a similar sports betting law earlier in the year but was ultimately a waste as the bill went nowhere. This newer proposed bill has more potential going forward, however.
Potential For Similar Laws In The Future
Will there ever be a PASPA style law passed in the future within the United States? The likeliest of answers is no. The US has lived both in a PASPA world and a post-PASPA world and the economy has thrived in one more than it has in the other. Sports betting will always be something that Americans participate in. To ban it would only be hurting the country and the revenue it gains from the industry. It wouldn't hurt the consumer as there are outside outlets to gamble are sporting events that are completely legal.
The only difference if another ban were to occur would be the US not profiting from those outlets the way they do in a post-PASPA world with their own platforms, which is why it would be highly unlikely that any legislation would pass like that of PASPA in the future. That's not to say that there won't be proposals that will come along as some people will always be opposed to legal sports betting but to go as far as becoming a law again, a betting man would wager on the side of "No." The legal sports wagering industry is just too lucrative in the US to ever be banned again.
GAME Act – Gaming Accountability and Modernization Enhancement Act
Introduced by Representative Frank Pallone, Jr. (D-NJ), the GAME Act was intended to effectively repeal and replace PASPA. Introduced in 2017 as HR 4530, the GAME Act sought to return to the states their rights to legislate their own sports betting rules. There were other considerations involved, namely a passage codifying daily fantasy sports (DFS) as "gambling," which the DFS lobby is vehemently against. Needless to say, the Supreme Court overturn of PASPA temporarily derailed the GAME Act, though it may come about if the federal government wishes to regulate gaming nationwide. Hopefully, the states – which all now have total gambling sovereignty – will resist any efforts to bring sports betting back under the umbrella of the US government.
Read Our Article: What Is The GAME Act?
Sports Betting Laws By State
Most states (all of them except Nevada, Oregon, Montana, and Delaware) used to be bound by the same sports wagering prohibitions set forth by PASPA. However, now that each state is free to make its own rules for wagering on athletic contests, you can expect a host of divergent laws to apply, depending on where you are. Analyzing the sports betting laws by state is something that you will have to do if you plan on hitting the road to do some sports wagering in the future. But that's OK, because – while the laws might vary a bit – all the states with sports betting (or those pending sports betting legislation) will generally follow the same mold. In most cases, you can expect the legal minimum age to bet on sports at these venues to be 21, and you can expect land-based wagering to launch before Internet sports betting follows suit.
If you don't want to do the research and just want to get to the bets, however, you should use a legal offshore sportsbook. These sites operate in all 50 states (with very limited exceptions, in the case of Bovada), and they're as good as or better than any land-based venue you're likely to come across. Really, the only reason to bet on sports at a brick-and-mortar book is to soak up the ritzy atmosphere of the casino and to watch the games in its sports betting lounge. If you simply want to wager and get on with your day (or night), then don't worry about any sports betting laws in the United States and simply sign up at an overseas Internet sportsbook.
States With Legal Sports Betting (Land-Based)
Nevada
Delaware
New Jersey
Mississippi
West Virginia
Pennsylvania
Rhode Island
New Mexico
Arkansas
New York
Iowa
Oregon
Indiana
Illinois
Montana
Michigan
Colorado (pending)
New Hampshire (pending)
North Carolina (pending)
Connecticut (pending)
Washington DC (Pending)
Washington (Pending)
States With Legal Sports Betting (Online)
Nevada
New Jersey
Pennsylvania
Iowa
Oregon
Indiana
Rhode Island
New Hampshire
Colorado
Illinois (pending)
Delaware (pending)
Tennessee (pending)
Michigan (pending)
States Currently Considering Sports Betting Legalization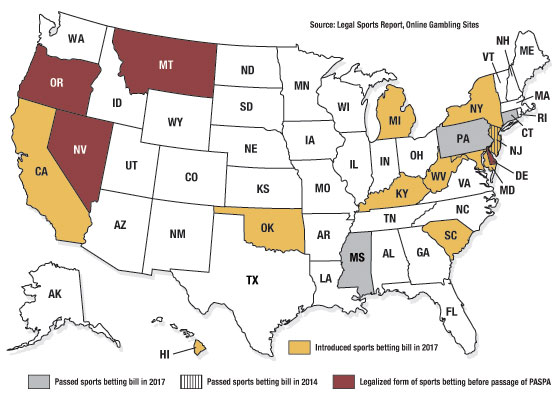 Alabama
Arizona
Kansas*
Kentucky
Louisiana
Maine
Maryland*
Massachusetts*
Missouri
Ohio*
South Dakota*
Virginia*
* States that gave legal sports betting a serious consideration and are expected to be the next wave of sports betting legalization.
Legal online sports gambling is increasing throughout the United States. Several states have already legalized sports betting, while many others have begun discussions on how sports betting bills will benefit their state and can be passed.
Locate your state below to see what the current legal status is and check out VegasInsider's list of online sportsbooks in each state to find reviews and get started with online sports wagering.
In a bold move, the US Supreme Court did away with the ban on legal sports betting in 2018. Since then, US states have been quick to move forward with bills and legislation allowing legal sports betting to operate on various platforms.
The first state to legalize sports betting since 2018 was Delaware, and others have quickly followed. Almost half the American states allow legal sports betting at brick and mortar establishments, although online sports betting is not as prevalent as yet.
As the concept of legal sports betting becomes more widespread, we anticipate more and more states to offer the best sports betting options through retail sportsbooks or sports betting apps.
To get the freshest US sports betting news and learn about recent developments, you can also check out our weekly industry report from February 2nd 2021 : Weekly Sports Betting News
States With Legal Online Sports Betting
Wondering how to place an online sports bet now that it's legal where you live? Just click on your State for our expert review about the best betting sites and sports betting apps available near you!
Updated on :
The best us sportsbooks have great welcome offers to get you started with you online sports bet
Rank
Sportsbooks
Welcome Offer
Legal States
Bet Now
1.

FanDuel
Visit Review
Risk-Free Bet up to $1,000
T&C's Apply, 21+
Available in
CO, IA, IL, IN, NJ, PA, TN, WV

2.

BetMGM
Visit Review
Risk-Free Bet up to $500
T&C's Apply, 21+
Available in
CO, IA, IN, NJ, NV, TN, WV

3.

WynnBet
Visit Review
Up To A $500 Risk-Free Bet
T&C's Apply, 21+
Available in
CO, NJ

States With Sports Betting in Retail Only
Online sports betting may not be available yet in theses states but there are other options when it comes to betting on your favorite sports or teams. Read our full coverage of all available sports betting options in your home state!
States With Legalized Sports Betting Launching Soon
Come find out what's currently being discussed in your State and wether legal sports betting or even online sports betting could be coming soon to you. Click on your State for all the information you're looking for!
States Discussing Legal Sports Betting
Most of theses states are still in the first stages of considering legal sports betting. But situations vary and you may be in for a surprise when it comes to your own state's status about online sports betting.
States With No Meaningful Sports Betting Legislation
At the moment these states seem pretty far away from any meaningful legislation towards online sports betting. We've still gathered all interesting information available about sports betting over there.
Is Sports Betting Not Available in Your State? Try Daily Fantasy Sports
Daily Fantasy Sports (DFS) is a unique new way to bet on your favorite sports teams and players. If your interested in playing DFS, then read our Monkey Knife Fight review. Instead of playing against other players, you are playing against the MKF house.
Daily fantasy sports are available in some US states where online sports betting is not yet legal. This is because they are considered games of skill and not games of chance; therefore, they don't fall under the gambling umbrella.
Daily fantasy games are a shortened version of the real thing, with competing teams handpicked by the DFS players. Contests can run for just one day or as long as a week. Traditional fantasy sports run for an entire season.
DFS is a fantastic alternative to legal sports betting. The fast pace and the excitement DFS generates makes it a growing market among US sports fans.
Rank
Daily Fantasy Sports
Welcome Offer
Claim Offer
1.

Monkey Knife Fight
Visit Review
100% Match up to $50 - Code: BONUSMAX
T&C's Apply, 21+
2.

DraftKings DFS
Visit Review
Deposit Bonus up to $500
T&C's Apply, 21+
Available Bet Types
The best sports betting sites have a variety of bet types. From straightforward moneyline bets to multi-selection accumulators, online sportsbooks cater to all levels of bettors. Here are some of the popular bets you may encounter at sportsbooks and on sports betting apps.
Moneyline
In a moneyline bet, you bet on a team to win the game outright. Although these are very straightforward bets, they aren't always lucrative unless you bet on the underdog. Backing the favorite to win rarely gives you good odds.
Point Spread
Point spread wagering is standard in basketball and football. The sportsbook allocates either a negative or positive number to each team. This number indicates the number of points that must be subtracted from or added to the final score. The favorite in a match will have a negative number.
In a point spread bet, the winner or loser doesn't matter. The important thing is that they cover the point spread. The favorite must win by the number of points allocated, whereas the underdog must win outright or lose by less than the number of points allocated.
Here's an example. Team A is the underdog with a point spread of -3.5, and Team B has a point spread of +3.5. For team A to win the bet, it must win by 4 points or more. To win a bet on Team B, the team must either win outright or lose by 3 points or less.
Totals (Over/Under Bets)
A total bet is another straightforward wager. You are betting on whether both team's combined score will be under or over the specified number. If the sportsbook sets the number at 50 and you believe that the total game score will be more than that, you bet over. Alternatively, you bet under if you feel that the teams won't reach that combined total.
Parlays
Simply put, a parlay bet allows you to combine multiple bets on one slip. You can include different bet types and wager on various games, all on the one ticket. To win a parlay bet, all individual selections on the slip must win.
In-Play Bets
You place an in-play bet when a match or game is already underway. This type of betting is also called live betting. It allows you to wager when you feel the odds are more favorable in a game or more reflective of the state of play. Online sportsbooks often combine in-play betting with live streaming of matches.
Props
Props bets, or proposition bets, are smaller wagers placed on specifics within a game and don't rely on a game's outcome. They are popular in football betting, but we see prop bets more and more on the best sports betting sites.
You can wager on anything from the Most Valued Player to the time of the first touchdown in a game. These bets are more for entertainment and fun than the serious side of online sports betting.
Futures
As the name suggests, a futures bet is one on a game that's taking place some time from when you place the wager. The NFL Super Bowl and NBA Finals are popular options for futures betting.
You would usually place a futures bet at the start of a season for the final game. To win the bet, the team you're backing must make it through to the finals and then win.
Where Is Sports Betting Legal In The US?
Ever since Nevada made the initial move to legal sports betting, there has been a steady stream of states following suit, with many states keen to provide the best sports betting options. Some states are in the process of passing the necessary bills, while others are lagging a bit further behind and still deciding on the relevant structures for regulation.
It's interesting to note that during 2019, a whopping $13bn passed through sportsbooks' coffers. This turnover shows that the American public was more than ready for legal sports betting and have eagerly welcomed this pastime. Here's a rundown of 20 of the states where legal sports betting is in the making.
New Jersey Legal Sports Betting
Gambling in New Jersey started in the 19th century. In the 70s, the state designated Atlantic City its casino hotspot, which rose to prominence at the national level, competing with the likes of Las Vegas
New Jersey is one of several states that has legalized sports betting in the US in recent years. In 2018, Governor Phil Murphy signed a bill legalizing sports betting. A mere three days later, sports betting began in earnest in NJ, using pre-existing infrastructure from the casinos.
Before that, the only legal form of sports betting in the state was visiting a racetrack. Nowadays, online sports betting is available throughout the state. Dedicated betting sites and apps are available. Customers may reside in any state, but must be physically located in New Jersey.
The Garden State is a pioneer in the modern sports betting industry. New Jersey took on the federal government and major US sports leagues such as the NFL in the courts. In the end, it won the right to offer legal sports betting.
New Jersey is also at the forefront of legal online sports betting. Partnerships have been formed between the Atlantic City casinos and New Jersey racetracks with online operators. Companies such as DraftKings, FanDuel, PointsBet and BetMGM now play a prominent role in NJ online betting.
Recent sports betting revenues show just how fast the sports betting industry in New Jersey has grown. This trend should continue with more and more sites coming online in time for the upcoming football season.
Pennsylvania Legal Sports Betting
New Jersey's neighbor to the West wasted little time in going live with legal sports betting throughout the Keystone State. Following in the footsteps of NJ, the PA online sports betting industry is up and running.
Legal sports betting in PA also got its start in the state's casinos and racetracks with land-based sportsbooks. State legislation from a comprehensive gambling expansion bill in 2017 also paved the way for online betting sites.
SugarHouse Sportsbook PA was the first to offer sports betting online. Parx and BetRivers launched their sites and FanDuel was up and running a month later. The online sites are also tied to land-based casinos and racetracks through strategic partnerships. This is another state with fast growing revenue figures in its early returns.
Colorado Legal Sports Betting
Among the many US states, Colorado isn't the friendliest towards gambling. Casino gambling is generally illegal in Colorado, with a very reduced number of exceptions. These include tribal casinos (such as the Ute Mountain Casino) and three designated towns.
Each of those towns had legalized gambling at the local level by 1991. They are Black Rock, Cripple Creek, and Central City. State law specifically authorized these locations to offer regulated casino gambling services. No form of online casino gambling exists in the state.
Nevertheless, after the Supreme Court struck down the Professional & Amateur Sports Protection Act in 2018, things started to change. The state legislature started to consider legalizing sports betting to add revenues to the state's coffers. A bill legalizing sports betting finally passed in May 2020.
Within weeks, several operators launched online sportsbooks catering to gamblers in Colorado. In the following months, all the largest players in the market have moved into this new legal sports betting market. Oddly enough, online casino gambling remains illegal in the state. Still, you can bet on your favorite sports from the comfort of your own home at any time.
Indiana Legal Sports Betting
For more than a century and a half, all forms of gambling were banned in Indiana. It wasn't until 1988 that the state first legalized the lottery. A year later, the state legalized its first form of regulated sports betting: parimutuel wagering. By the 2000s, the state had two racinos, Indiana Downs and Hoosier Park.
Riverboat casinos were legalized and developed through the 90s, with over a dozen now in the state. In the 2000s, Indiana's first and only Indian casino opened its doors. Recently, Indiana voted to allow riverboat casinos to switch to land-based operations, to remain competitive with neighboring states. Both online casinos and sports betting remained distant dreams, though.
That was until 2019, when Indiana voted to legalize sports betting. BetRivers became the first operator in the state, followed by DraftKings. By late 2020, nine operators serviced the market, with two more entering in the near-future: Fox Bet and William Hill.
Sports betting is legal in the state at all registered land-based and riverboat sportsbooks. Online sports betting and sports betting apps are also readily available. Indiana has embraced the world of sports wagering in full.
Illinois Legal Sports Betting
Illinois has a relatively long history with gambling. The state first legalized horse race betting in the 1920s, covering local tracks. Gambling expanded in the state in 1990, with the Riverboat Gambling Act. This allowed many river casinos to flourish across Illinois.
Sportsbooks remained illegal, though, as did all forms of online gambling. Despite having several casinos to choose from, state residents couldn't gamble online. Several attempts were made to regulate online gambling, but they faced considerable opposition from local casinos. To date, online casinos are still illegal in Illinois.
However, the Supreme Court striking down PASPA changed things forever. A few months after the ruling, the state legislature moved to legalize sports betting at riverboat casinos. Governor J. B. Pritzker signed the bill into law in June 2019. It was a complicated piece of legislation, and it took considerable time for the state's gambling operators to adapt to it.
Although at first, there was a requirement to complete registration in person, that provision has been scrapped – for the time being. Right now it seems likely that the IL Gaming Board and Gov. Pritzker will keep fully online registration going forward.
Tennessee Legal Sports Betting
Legal sports betting in the Volunteer State was approved by lawmakers in May 2019. Since there are no land-based casinos in the state, the plan was to go online from the start. BetMGM Tennessee got the ball rolling Sunday, November 1 with plenty of other sportsbooks following its lead. This endeavor is being overseen by the Tennessee Gaming Commission.
The state voted to implement a lottery in 2002, with the first ticket being sold in 2004. The rise of online gambling and web-based casinos largely missed Tennessee, where such business remains illegal. Casino fans in the state must instead resort to social casinos with play money.
Surprisingly, Tennessee jumped on the sports betting bandwagon after PASPA was struck down in 2018. The state legislature quickly discussed a few proposals, settling on S16 in early 2019. Governor Bill Lee didn't sign the bill, but allowed it to become law without vetoing. The bill legalizes and regulates online sports betting and parimutuel wagering.
Curiously, retail sports betting remains illegal in the state. Customers must use regulated apps or licensed online betting sites instead. Online casinos remain broadly illegal, and no land-based casinos exist either. In the future, it's entirely possible that the legislature may revisit these issues. Only time can tell what's in store for gamblers in TN.
Iowa Legal Sports Betting
The state of Iowa has a long trajectory in the world of gambling. All forms of gambling were banned starting in 1846, when Iowa first became a state. The Iowa Constitution of 1857 reaffirmed that prohibition, plainly barring the constitution of any lotteries. State legislators considered this to essentially ban all games of chance and forms of gambling.
This went on for over a century, until 1972, when the state repealed the relevant provision in a constitutional amendment. By 1973, the state legalized bingos and raffles, followed by parimutuel wagering in 1983. Iowa slowly warmed up gambling in general. Riverboat casinos became legal in 1989. Three tribal casinos operator in the state as well.
Sports betting was legalized in Iowa after the Supreme Court struck down PASPA. In May 2019, the state legislature approved a bill that regulated retail and online sports betting. The first operators went live in August of that year.
States Legal Sports Gambling
As of January 1st 2021, bettors in Iowa don't have to go through in-person registration anymore and can sign up directly online in order to place a sports bet with their favorite sportbooks.
Today, half a dozen major sportsbooks offer their services online in the state. Each offers both an Iowa sports betting app and an Iowa sports betting site. If legal sports betting proves to be a success, it could pave the way for online casinos in the future.
Michigan Legal Sports Betting
Michigan has nearly a century's worth of gambling history. Sports betting first became legal in the state in 1933, albeit only covering parimutuel horse racing. A state lottery was passed and organized in 1972. That year legalized the operation of charitable gambling events as well. In the 90s, several tribal casinos were established. Today, there are well over a dozen.
In 1997, the Michigan Gaming Control & Revenue Act was passed. This allowed land-based casinos to open for business in select locations across the state, including Detroit. Three set up shop in Detroit: Greektown, Motor City, and the MGM.
Online casinos remained illegal in the state into the 2000s, with a 2006 bill banning it entirely. However, time would eventually change this. After PASPA was struck down, the state was quick to consider sports betting legislation. In 2019, Michigan legalized sports betting, online gambling, and online sports betting.
Retail sportsbooks started wagers in March 2020. By June, the state's first tribal sportsbook opened for business. Online sports betting has yet to go live in Michigan, though. Sports betting apps and online betting sites are expected to launch at some point in late 2020 or early 2021.
Nevada Legal Sports Betting
Home to Las Vegas, Nevada is one of the world's most prominent gambling hubs. However, at the start of the 20th century, gambling was banned in the state. Once the Great Depression hit Nevada, though, lawmakers were quick to search for ways to increase revenue. In 1931, Nevada legalized gambling, and sports betting followed in 1949.
The world's largest casinos would be erected along the Vegas Strip in the following decades. For many years, Nevada was the only state in the Union where you could legally gamble on sports. 1992's PASPA bill effectively gave the state a national sports betting monopoly. The situation didn't change until 2018, when the act was finally struck down.
Several states have since legalized sports betting, so Nevada is no longer the only game in town. Still, online sports betting is fully legal anywhere in the state. Registered land-based casinos and sportsbooks in the state offer both online bookmaker sites and sports betting apps.
Curiously, unlike most of the country, Daily Fantasy Sports betting isn't currently available in Nevada. It's classified as gambling, which means that operators require a full gambling license. So far, DFS companies have been unwilling to acquire that license.
West Virginia Legal Sports Betting
West Virginia has a rather long gambling history. Parimutuel wagering has been legal in WV since the 30s, with Wheeling Downs and Waterford Park leading the way. Racing was huge for the local economy, allowing for sizable infrastructural improvements in the state.
40 years down the line, West Virginia once again looked to gambling to increase state revenues. In 1987, video slots were introduced to Mountaineer Park (formerly Waterford Park). The 1994 Racetrack Video Lottery Act and subsequent bills slowly introduced video slots elsewhere. By the 2000s, Wheeling and Mountaineer offered poker and full casino table games.
Greenbrier Casino received its authorization to operate in 2010. After the Supreme Court struck down PASPA in 2018, the state was quick to regulate sports betting. The first retail sportsbooks opened up land-based casinos throughout WV. The first online sportsbooks went live that year as well. Oddly enough, online casinos wouldn't follow in their footsteps until 2020.
Today, gamblers in West Virginia have a selection of sports betting apps to explore. They include some of the biggest players in the industry, such as FanDuel, DraftKings, and BetMGM. In the near future, more online sports betting sites will likely join their ranks.
Maryland Legal Sports Betting
Maryland has a long and complicated history with gambling. Horse racing has been part of Maryland since the 18th century, with Pimlico Race Course. Other forms of gambling have had slower adoption, though. Charitable bingo was first legalized in the 50s. Slots were legal for a few decades in the 20th century, before a final ban in 1968. The state lottery opened in 1973.
By the 90s, there was considerable pressure to reconsider the legality of slots, particularly due to competition from neighboring states. Various measures were considered, with the state eventually legalizing land-based casinos in 2008, issuing five licenses.
In the following decade, these licenses were leveraged into sprawling casinos across the state. At first, they could only offer video slots, but a 2012 reform legalized table games and poker tournaments. Today, Maryland is a hotspot for international poker players.
Sports betting remained illegal for a few years, even after PASPA was struck down by the Supreme Court. Legislators wouldn't outright legalize sports betting, leaving it up to the voters. In November 2020, Maryland voters weighed in, deciding to legalize sports betting in the state to raise revenues for education. The first Maryland online sportsbooks are expected in 2021.
Washington DC Legal Sports Betting
Sports betting in the state of Washington is still illegal, but it is now legal in our Nation's Capital. The City Council of DC approved a measure in late 2018. In the absence of land-based casinos, Washington DC online betting will be legal at numerous venues. Stadiums, restaurants, and even liquor stores will be able to offer betting kiosks.
The DC Lottery has been designated to oversee these mobile betting apps. The target date to get things up and running with legal online sports betting is by the end of 2019.
Oregon Legal Sports Betting
Sports betting became legal in Oregon in August 2019 and is controlled by the Oregon Lottery. The following month, the first sportsbook for legal sports betting went live at Chinook Winds, a tribal gaming facility.
Oregon Lottery launched an online sports betting app called Scoreboard to facilitate sports wagering in the state. There are no other sports betting apps available in Oregon.
Maryland Legal Sports Betting
Maryland voters made it clear in a recent referendum that they want legal sports betting in the state. It's now up to the lawmakers and regulators to develop the framework for sports betting and decide on the necessary rules.
There are currently no legal sports betting options in the state, apart from horse racing. This situation is likely to change in 2021, provided the legislature passes the sports betting bill. Once this happens, the governor can sign the legislation into law, and legal sports betting will become a reality.
South Dakota Legal Sports Betting
In November 2020, voters in South Dakota chose to allow legal sports betting, but only in Deadwood. Deadwood is a gaming town in the Black Hills region of South Dakota and home to most of the state's casinos.
Ny Sports Betting News
While lawmakers are pushing for legal sports betting to launch in 2021, it doesn't allow for online sports betting at this stage. We'll have to wait a while longer before sports betting apps and online sportsbooks are signed into law.
Louisiana Legal Sports Betting
In November 2020, Louisiana's voters chose to legalize sports betting in the state. While it's clear from the recent referendum that legal sports betting is very much in demand, it won't happen overnight. If all goes well, you could see sportsbooks launching later in 2021. Top bingo games online.
Online sports betting may take longer to reach Louisiana. The recent vote didn't include either online sportsbooks or sports betting apps, and lawmakers may only discuss it after finalizing legal sports betting.
New York Legal Sports Betting
New York first legalized sports betting in 2013; however, it couldn't go live until after lifting the federal ban. Legal sports betting finally got underway in July 2019, at sportsbooks located in commercial and tribal casinos only.
For now, mobile and online sports betting isn't an option in New York. Sports betting apps can launch in the state after lawmakers draft new laws to expand the reach of current legislation.
New Hampshire Legal Sports Betting
Legal sports betting started in New Hampshire at the end of 2019 and is still somewhat limited. DraftKings currently has a monopoly, and the only way to wager on sport in the state is through the DraftKings sports betting apps.
DraftKings has a firm grip on sports betting in New Hampshire, although the state Lottery intends to offer a sports betting option. We also expect multiple retail sports betting facilities to open in the future.
Rhode Island Legal Sports Betting
Joining the list of states with legal sports betting was Rhode Island in November 2018. Residents and visitors to the state can visit the two brick and mortar casinos in Rhode Island for the best sports betting on sports teams and matches.
In early 2019, online sports betting went live across the state. To register, bettors must present at one of the two Twin Rivers casinos to verify their identity. Once verification is complete, you can wager on the sports betting apps from the comfort of your own home.
Delaware Legal Sports Betting
After Nevada, Delaware was the second state to legalize sports betting, and it did so on June 5th, 2018. Before this, though, residents could still place 3-team parlays on NFL games. The reason was that some sports bets had been allowed before the implementation of PASPA.
Although online gambling is legal, Delaware does not yet allow online sports betting. Players must visit one of the three physical casinos in the state to wager on a sports match or team.
Montana Legal Sports Betting
Montana was one of the few states where PASPA didn't restrict sports betting. Running sports betting in bars and taverns, albeit via a lottery system and not a sportsbook, remained legal.
Legal sports betting launched in Montana in March 2020 and the Montana Lottery oversees this process. You can choose to wager via the sports betting app from Sports Bet Montana or at one of 180 kiosks for legal sports betting located throughout the state.
History Of Sports Betting Legislation In The US
The Beginning
Like many countries, gambling in the United States of America has its roots in centuries-old history. It started with lotteries, which in the 17th and 18th centuries were excellent ways to raise funds. Among other things, these funds went towards developing schools and universities. Yale, Harvard, and Princeton all benefited from lottery funding.
Fast forward to the 19th century, and many people perceived gambling as linked to corruption. In 1860, authorities banned all forms of gambling and sports betting, apart from horse racing. In those days, horse racing was viewed differently to other sports betting types and was generally enjoyed by the elite society.
Horse racing experienced a boom in the latter part of the 19th century. This changed in 1910 when the gambling ban was extended to include lotteries. Although horse racing was still exempt, the stigma attached to gambling and sports betting resulted in many racetracks closing down.
The Middle
The gambling landscape changed again in the 1930s when funds were in short supply after the Great Depression. In Nevada, authorities lifted the ban on table games where players bet against the house, like poker and blackjack. One thing led to another and, in 1949, the state eventually legalized sports betting.
High taxes, organized crime, and various Acts prohibiting the movement of information and materials required for sports betting led to many sportsbooks closing down. However, in the mid-1970s, the government imposed lower taxes on sportsbooks, and for the first time, a sportsbook could operate inside a casino.
The Interstate Horse Racing Act of 1978 was a turning point for sports betting. This Act made it legal for bettors in states with legal gambling to wager on horse races outside their state. It was a sign that lawmakers recognized the potential in regulated sports betting. Congress reduced taxes on sportsbooks even further, resulting in a boom across Nevada.
Professional And Amateur Sports Protection Act
In 1992, Congress introduced the PASPA. This Professional and Amateur Sports Protection Act led to a massive decline in sports betting. It prohibited states from allowing sports betting on professional and amateur sports, with a few exemptions. Horse and dog racing could continue, as could sportsbooks in Las Vegas and sports lotteries in Delaware, Oregon, and Montana.
Contrary to expectation, PASPA didn't sound the death knell for sports betting. Some four years later, the internet became an integral part of connecting bookmakers to bettors. On January 17th 1996, online sports betting was born and the first wager was placed across state lines. Online sportsbooks started to flourish and became a viable form of legal sports betting.
Unlawful Internet Gambling Enforcement Act
Online sports betting hit a snag in 2006 when the federal government passed the Unlawful Internet Gambling Enforcement Act (UIGEA). This Act made accepting money from someone participating in illegal online gambling on US soil a criminal act.
While it didn't specifically prohibit online betting, the UIGEA targeted the financial transactions linked to sports betting. The result was that online sportsbooks with any legal or financial connection to the US withdrew from the country.
The Future
In May 2018, the Supreme Court of the United States ruled that PASPA effectively took away each state's authority to regulate sports betting. SCOTUS overturned the federal ban imposed by PASPA. Each state now has the responsibility of determining how to monitor and control online betting within state lines.
Since the overturning of the ban, there's been a massive movement towards legal sports betting. More and more states are putting structures in place to make the best sports betting available to its residents.
Legal Sports Betting FAQ
What Is The Minimum Age For Online Sports Betting?
The minimum age for legal sports betting varies. Some states allow people 18 years and older to bet, while in others, bettors must be 21-years-old. You must check the laws of the state that you reside in, or are visiting, for the correct minimum age.
Which Of The Online Sportsbooks Should I Join?
You can join as many sportsbooks as you would like to. Do your research and choose those with the best sports betting options and payment methods you're comfortable with.
How Much Money Should I Bet?
Online sportsbooks have minimum and maximum wager limits. You can wager as much or as little as you would like to, but the amount must be within the set limits.
Can I Download An App For Betting?
The best sports betting operators tend to have downloadable sports betting apps, usually for both iOS and Android devices. If not, then you can access online sports betting through your web browser on your device.
When Did Sports Betting Become Legal In The USA?
The Supreme Court overturned the law prohibiting sports betting in 2018. Since then, legal sports betting has become prominent in many states across America.
Sports Betting Legislation By State
What Sports Can I Wager On?
There is a wide range of sports available at online sports betting sites, although each sportsbook is different. Find a sportsbook that offers the sport you want and register to place your bets.
Is Online Sports Betting Safe?
Betting online is perfectly safe as long as you do so with a legal, licensed sportsbook. Each sportsbook should be licensed and regulated by an appropriate authority, and you can find this information on the sportsbook's website.
What Is In-Play Betting?
"In-play" or "live" bets in online sports betting are ones placed while a game is underway. You can watch the game unfold and place bets according to how the teams are performing.
Can I Register With More Than One Sportsbook?
Legal States For Sports Betting
Yes, you can. The number of online sportsbooks that you choose to register with is up to you. You might find better odds for some sports on other sports betting apps. For this reason, it can be beneficial to use different sportsbooks for different sports.
What Are Daily Fantasy Sports?
In daily fantasy sports, you select your team from an allocated pool of players and compete against other fantasy teams. Contests take place over a day or a week, but the timeframes are shorter than for classic fantasy games that unfold over a season.
Final Thoughts On Legal Sports Betting
It's no secret that legal sports betting is becoming popular worldwide. The age of technology and a general shift to an online environment has brought the best sports betting options to our screens.
States With Legal Sports Betting Map
Sports betting apps make connecting to the best sports betting operators as easy as a few clicks, and legal sports betting offers players of a range of sports and betting options without leaving our homes.
With most US states already embracing legal sports betting, the rest are sure to follow. As long as sportsbooks comply with regulations and bettors gamble responsibly, legal sports betting is here to stay.